Doggy Dao Launches on ShibaSwap.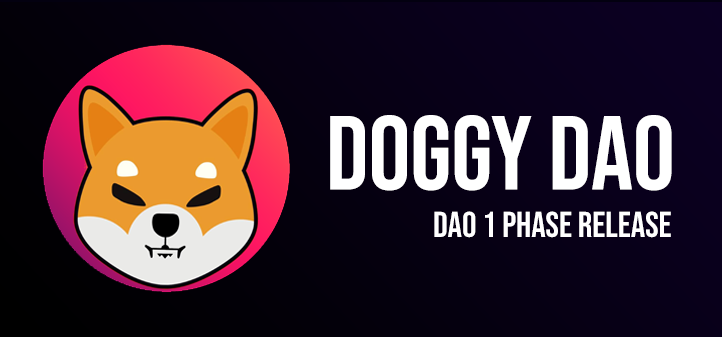 The day has arrived, we are happy to announce DOGGY DAO will be officially launched in the upcoming hours with our first phased approach labeled DAO 1.
From that point and going forward, any, and all projects that want to form part of our WOOF Pools will need to be decided by community voting.
Doggy Dao launching on ShibaSwap not only factors community voting rights but also accomplishes a closer path to our mission for decentralization and actions that exert authority/control over certain areas.
We are calling this a 'Beta' release, as we are expecting proper community feedback, while also observing the workflow closely to make sure our community finds the system easy to use, secure, and fair.
FIRST PHASE - DAO 1 (Beta)
DAO 1 (Beta) is focused on providing immediate power to the community, in order to choose crypto projects and pairs on the ShibaSwap WOOF Pools, for the future of the Decentralized Exchange, as well as how the $BONE rewards (Allocation Points) are to be distributed amongst them.
The community will be able to distribute their voting power when holding $tBONE which is the staked form of $BONE. The rewarded Liquidity Pools are to be decided fully by these votes while avoiding the Developer team from making those very choices.
As a reminder, there will be a list of the 'Top 50 Liquidity/Volume Pairs' from ShibaSwap, and each user can weigh their important votes into the project or projects they are interested in.
VOTE RESPONSIBLY AND DYOR
As DOGGY DAO provides a system that allows the community to make project decisions, it is important to understand that ShibaSwap Developers and/or anyone from the Shiba Inu Team (Breeds) are NOT directly involved in the autonomy of the voting process.
Just like we protect the integrity of the ecosystem, by handing this to the community, we kindly ask users to do their own research (DYOR) before making any choices that could potentially onboard risky projects onto the Swap.
The system is autonomous and run by you, the community, and therefore the responsibility falls on those who vote the projects in.

Remember, anyone – meaning any project can provide liquidity into ShibaSwap, and by introducing DAO voting mechanics, these projects can enhance benefits by becoming a Woofable Pair thanks to your votes.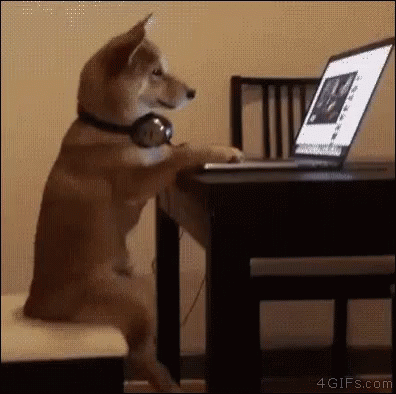 Once again, we ask you to please understand, while not ignoring risks that could be associated with an infant, unknown, unaudited, or potentially newer project. So please vote responsibly!
Projects will be competing for YOUR votes, meaning they will want to make things attractive for the Shiba Inu ecosystem holders.
We are always evolving the platform, and are making every effort to keep users informed in all areas, so as a first phase, we can't wait to see what works best for the community.
As an additional safety mechanic, 'The guardians' (6/9 wallet), alongside the Defense Breed, would have the final decision for allocation approval and proper onboarding. This is an empowering effort to avoid any scams, thus overviewing the process of autonomy, as well as factoring in someone truly gaming the system.
LOCKED PAIRS
The following are to be acknowledged as 'Locked Pairs' that will not participate in the DAO process and therefore cannot be decided by the community. These pairs are designed for the well-being of the platform, and liquidity. Furthermore, these receive 50% of the $BONE allocated to Liquidity Pools, and therefore the remaining 50% goes to the community and through the 'DOGGY DAO' system.
➡️ 20% - BONE/ETH
➡️ 7% - LEASH/ETH
➡️ 5% - SHIB/ETH
➡️ 5% - SHIBOSHIS (New!)
➡️ 5% - LEASH/BONE
➡️ 2% - ETH/USDT
➡️ 2% - ETH/USDC
➡️ 2% - ETH/DAI
➡️ 2% - ETH/WBTC
SHIBOSHIS APPEAR!
A Woofable Surprise for our community will be SHIBOSHIS. We are happy to introduce a SHIBOSHI 5% of the BPB (Bone Per Block) designated to Liquidity Pools, which will now form part of the locked pairs!
Note: 5% shall be divided amongst all 10,000 SHIBOSHIS. Therefore the more SHIBOSHIS you have the more you earn.

Keep in mind, we are working on an accurate process to onboard this in the most responsible way for our NFT holders, and in which we create a passive reward system that acknowledges the wallets holding the NFT(s).
This is also being introduced in 'Beta status' and will announce more information on this specific locked pair as we progress and find the best method that serves our beloved Shiboshi holders.
A WELCOMING VOTING PORTAL
Visitors, and Users to ShibaSwap, will now see a link to "DOGGY DAO" directly on the main portal. It will take you directly to the site in which you are to distribute votes.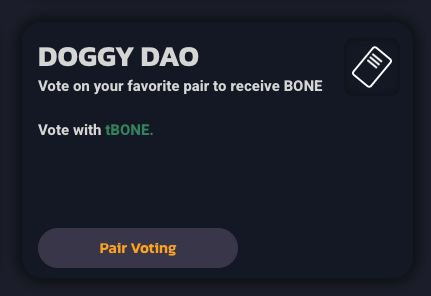 For the voting process to be acknowledged by the DAO, users must stake their $BONE (to get $tBONE) while also distributing their amount of choice, to weigh in and provide to that pair listed within the platform.
Voting will undergo a 5 (Five) day period. You will be able to see if the voting sequence is acknowledged with an 'Active' or 'Closed' status, and its timeline.

As you enter the Active grouping of pairs, you will be able to see the Name of the listed pairs, Volume information, and a voting entry system, in which you can type in or click on the icons to navigate. Percentages of the 'Vote Split' will be shown next to the selected pairs.

Once you click on the proposed grouping, you will be able to see additional information such as Author, Voting System, Start, and End Date.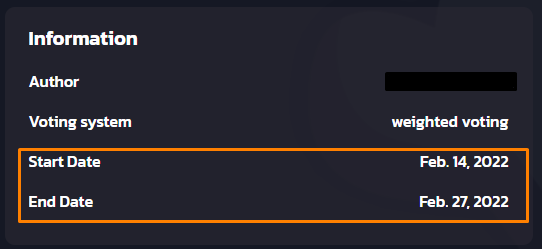 This will be a weighted voting system where you can assign percentages, while the total voting power will be divided into multiple pairs by such percentage assignments. The more these weigh-in / the more votes a project achieves, the more AP it will have.
To make things even easier, you will also be able to Lock $BONE directly from the same portal. 'Locking' $BONE convert your tokens into the staked version $tBONE which is required for voting rights to be acknowledged by the DAO system. It also adds it to the same pool as BURY, as you are staking your $BONE tokens.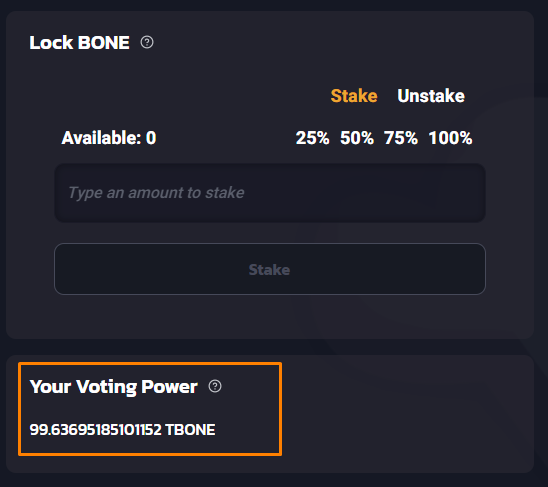 At the end of the voting period, we will review which pairs go the maximum allocated votes, and as these are acknowledged so will the percentage amount for $BONE rewards. APs and Pairs will be determined depending on the results of the voting process, and totaling 30 pairs (as a maximum), will be executed, and processed to appear into the WOOF Pools.
A 'Current Results' screen is displayed as well for a transparent yet effective way of tracking the voting power. Pair, amount of TBONE weighing-in, and percentage information are displayed throughout the process.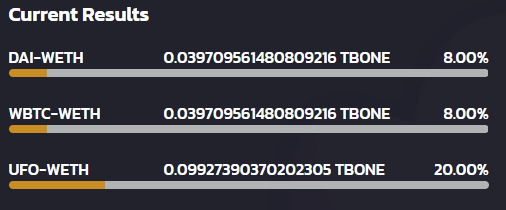 The executed pairs will be showcased for a period of 14 days, and their APs will remain there until the next voting occurs, and finishes the week before the expiry date. Voting will begin once again with a brand new batch of pairs or rewards that will be decided and selected by the community.
Finally, as we observe the behavior in the first two rounds, we will be using a brand new staking contract to lock $BONE for a longer period before the voting begins, which doesn't stop whales and exchanges from entering but can certainly help mitigate at a higher level.
We are as excited to announce the next evolution of the ShibaSwap platform with DOGGY DAO. The foundation of decentralization, and community voting rights grows! This is the genesis of new projects competing for your votes to enter ShibaSwap while providing benefits and a voice to the #ShibArmy!
Wooooof!!! As always, thank you for your support!